DESIRE TO ESCAPE ?
TAKE ADVANTAGE OF OUR MOTORBIKE RENTAL OFFER IN TAHITI!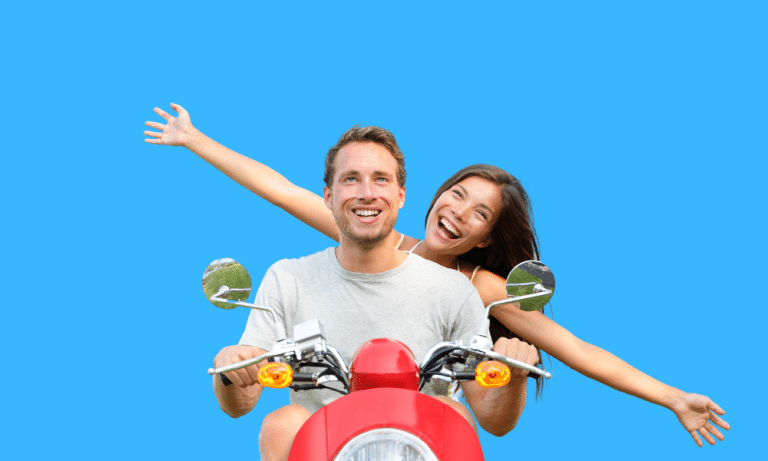 Renting a motorbike in Tahiti and Moorea is the ideal way to discover the paradisiacal landscapes in complete freedom, and to fully appreciate the Tahitian atmosphere.
Easy and free parking, as well as low fuel consumption are among the many advantages of riding on moped scooter on the island.
Vous n'aurez aucune difficulté à faire le tour de Tahiti et Moorea en deux roues quelques soit la cylindré choisit, 50cc ou 125cc.
The 5 good reasons to rent a scooter in Tahiti :
Freedom of movement
L'une des principales raisons de louer un scooter à Tahiti est la liberté de mouvement qu'il offre. Vous pouvez facilement vous déplacer d'un endroit à un autre sans avoir à vous soucier de la circulation ou du stationnement. De plus, vous pouvez vous arrêter à tout moment pour prendre des photos, explorer un village où acheter des souvenirs.
Economical
The cost of renting a scooter is generally lower than that of a car. Plus, scooters consume less gas, which means you'll save money on fuel costs. This will also allow you to spend more money enjoying your stay in Tahiti.
Adapted to the climate
Le climat à Tahiti est majoritairement chaud et humide, ce qui peut rendre les déplacements en voiture inconfortables. En revanche, les scooters offrent une brise rafraîchissante pendant vos trajets et vous permettent de profiter de l'air frais tout en vous déplaçant.
Easy parking
Scooters are easier to park than cars, especially in crowded places or when visiting popular tourist sites. You can easily park your scooter next to a curb or in a small space, allowing you to move quickly and easily.
Panoramic view
Renting a scooter in Tahiti will allow you to enjoy panoramic views of the island while you move around. You can explore remote places, mountain trails, or secluded beaches that are not accessible by car. Scooters allow you to discover Tahiti in a unique and memorable way.
In conclusion, renting a scooter in Tahiti is a practical and economical option for exploring the island. Not only does it allow you to enjoy unparalleled freedom of movement, but it also allows you to discover hidden places and panoramic views that are not accessible by car. So, if you're planning to visit Tahiti, don't hesitate to rent a scooter for an unforgettable travel experience.
Free loan of a helmet and a lock included in the scooter rental
Things to know before renting a scooter in Tahiti.
Whether it's for a one-day or one-month stay in Tahiti, renting a scooter to explore the island's roads is a very good idea! In addition to being very affordable, renting a scooter is the opportunity to explore the island at your own pace.
We offer a choice between 50cc or 125cc motorbikes at our Papeete agency, which will allow you to easily tour the islands of Tahiti and Moorea.
The roads that go around the island are well maintained, rather flat, which allows a pleasant ride.Note, however, that many houses are located on peaks which can sometimes be difficult to reach, especially if there are two of you on a small engine. This is why, if you are two adults, we recommend that you choose to rent two 50cc scooters or a 125cc scooter.
The regulations for renting a scooter in Tahiti.
As in mainland France, the regulations is not the same depending on the engine size.
The only prerequisite for renting a 50cc scooter is to be born before the year 2000. Your date of birth will be checked on your passport or identity document before your departure.
Regarding the driving of a 125cc scooter, for french metropolitan licenses, it is imperative that the vehicle category A1 or A is authorized on your driving license. Pensez à le vérifier sur votre permis avant de réserver votre scooter 125cc.
If you are not French citizen, you will have to hold a motorcycle license to rent a 125cc scooter in Tahiti.
Do you still have questions about the scooter rental in Tahiti?
Do not hesitate to contact us by phone or e-mail, we will be happy to answer your questions.